Natural Skin Care, right from the Farm
Handcrafted on the Sunshine Coast, BC
Our Beliefs Are Very Simple – Nature Has a System
Within this system, everything exists in its purest form. Nature has gifted us with many amazing, naturally healing elements. Some of these elements we've been lucky enough to harvest here on our little farm in Powell River, BC, creating these pure, simple & 100% natural farmstead products in small handmade batches.
Fresh on our farm for you.
Our soaps, creams & healing balms are handcrafted on our farm on the Sunshine Coast of British Columbia using our milk & honey, natural oils & organic ingredients.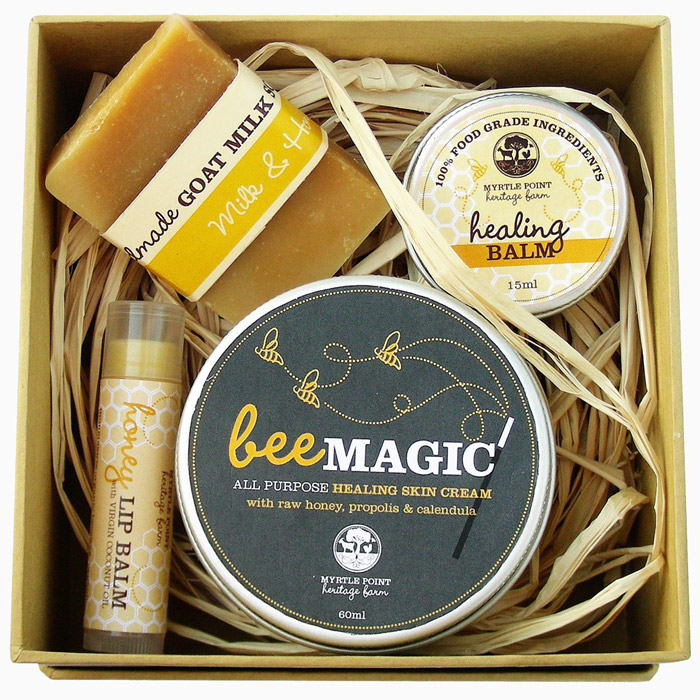 Handcrafted on the Sunshine Coast
Raw goat milk is high in many vitamins and minerals, especially vitamin A, which aids in repairing damaged skin. It is also naturally rich in caprylic acid, which soothes and rejuvenates skin. Lactic acid (an alpha­hydroxy acid) is also present in goat's milk which effectively removes dead skin cells and is thought to stimulate the production of collagen and elastin. Goat's milk soap is extremely gentle on the skin and is excellent for people who suffer from eczema or have delicate or dry skin.
The wonderful, naturally healing honey bee provides us with raw honey, beeswax and propolis. These pure and natural elements are rich in vitamins, anti­inflammatory and antibacterial properties which can help rejuvenate and repair damaged skin. Raw honey and beeswax help soothe and soften skin, while the antibiotic properties of propolis help combat acne, eczema, rashes and more.